Our facilities works well for conferences of all kinds, large or small, summer or winter.
Kalandersalen, named after a machine used in a paper mill, seats 100+. It is equipped with a small stage, PA-system and projectors to show pictures and video.




Hallingsalen is also excellent for larger conferences, musical performances and other events. This hall, with its well preserved rough industrial feel can accommodate up to 250 people.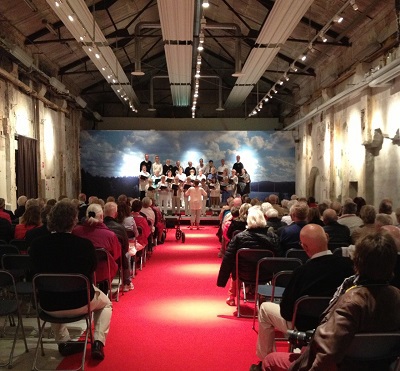 Here's a picture from when we celebrated the arrival of spring together with  "Skålleruds Församlingskör", a local choir, on April 30, 2014.
Opening hours
During the summer season 2021 we are open
May 1 - June 20: 10am - 4pm
June 21 - August 31:
Monday - Saturday:  10am - 5pm
Sunday: 11am - 3pm
Midsummer:
June 26 - 28 11am - 3pm
September: Saturdays and Sundays 10 am - 4 pm
Dalsland Center is available for events like trade fairs, conferences and concerts all throughout the year.
Contacts
Dalsland Center
Kanalvägen 4
464 72  Håverud
Sweden
+46 (0)530 18990, 18992